Soul Stone Japanese Thai Chinese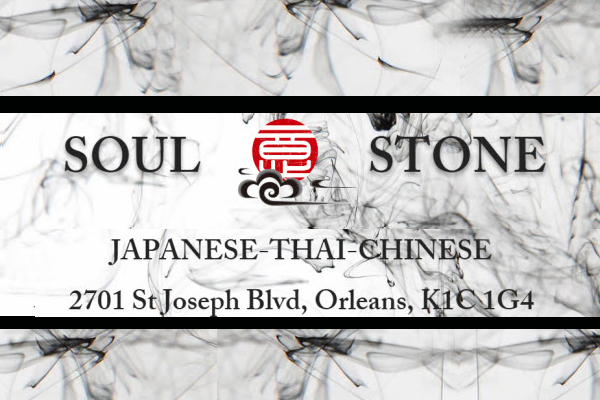 Soul Stone Japanese Thai Chinese
2701 St Joseph Blvd, Ottawa
613.837.1668
Soul Stone Sushi Grill and Bar has a great menu that includes Thai Firecracker Shrimp, Coconut Curry Chicken Soup, Tom Kai Gai, Tom Ton Gong, Thai Basil, Pad Thai Noodles, Pad See Ew Noodles, Thai Basil, Stir Fried Udon Noodles, and Sushi. Sushi menu includes Sake (Atlantic Salmon), Maguro (Yellow Fin Tune), Tai (Snapper), Escolar (Butter Fish) and Albacore (Tuna fro BC).
Pre Online Ordering
Ask about our promotions.
Special Diets
Vegetarian Friendly, Vegan Options, Gluten Free Options
Take out (Pickup in store)
Visit our website to see our take-out menu
Love our business by sharing
Wonderful service and great food. The sushi was absolutely amazing. The fuzion sushi was unique and absolutely a must. Will definitely go back as this place would be an addiction to any foodies.
Create a 60 day FREE Listing!
** Limited Time Offer **
Register
It is free and easy. Click register, then verify your email. Login to the admin panel and create your listing.
REGISTER
Promote your Specials
Add specials or menu items with a photo to your listing. Also highlight your live music and special events.
Want to be on our 1st page?
For only $240 ($20/month) you control your page. Sign up fast - limited spots available.
Related Businesses and Deals